How can I successfully increase website traffic?
Any of us that want online success need to increase website traffic.
When we're just starting, it's about creating traffic for the first time.
As we become more established, we need to increase the amount of traffic (or even, head off a decline).
These tips are intended for both beginners and more experienced website owners.
Tip 1 – Targeted traffic is key
So just what is targeted traffic, and why does it matter so much?
Targeted traffic is simply traffic that has expressed an interest in what you have to offer.
In internet terms, that probably means someone who has typed something related to your offering into a search engine somewhere.
They may not come directly to your website.
Sometimes they will, but sometimes they may, for example (and there are many other examples):
visit a blog that you have commented on
respond to a tweet
react to a facebook post
visit a forum where you have been active
and click a link from there.
This is targeted traffic.
This is traffic that has chosen to visit your site.
Of course, some will not be engaged and will leave again almost immediately, but some will stay longer. they have, after all, visited directly!
Non-targeted traffic is much less likely to stay, and the chances of any of them responding positively to your offering is minimal.
Tip 2 – Metrics matter – Make sure you know what works
No matter what you do to drive traffic to your website, make sure you have analytics in place so that you know where it came from.
This will give you a few critical pieces of information as follows:
You will know where your traffic is coming from and which methods are most effective.
This means that, when you are looking for 'easy' improvements, you will know to target the least effective methods first.
Sometimes, that may mean that you stop wasting effort on those ineffective methods, but do remember that it's important to use a wide range of methods.
You will know how effective you are at converting visitors into prospects (of course, the main reason for driving people to your website is so that they will sign up / register to receive further information or, if you like, will join your mailing list)!
This will help you to refine your website.
The quest to increase website traffic is never-ending, and no method should be left unchanged forever.
When you make a change to a method that is effective, you need to know whether you change delivers results.
You will only be able to do this if you know how much traffic you get from a particular method before and after a change.
100 visitors a day is great if previously, you had 50, but no so good if previously you had 150!
You will have a record of what has worked for you in the past.
Of course, as they say in all the best financial institutions, past performance is no guarantee of future success, but it can give you a pretty good starting point.
Just one word of caution though – when you're trying to increase website traffic, just because it didn't work before does not mean it won't work in the future.
Tip 3 – Divide and conquer
There are lots of ways you can increase website traffic, so which ones should you use?
The answer is as many of them as you can!
You won't be punished for using multiple methods so why restrict yourself?
In terms of your strategy to increase website traffic it really is better to be a jack of all trades rather than a master of 1.
There are lots of horror stories out there about people losing their business because of a change to the search engine algorithms – the way search engines like google rank web pages.
You will be insulated from this if you are able to utilise multiple traffic generation methods.
For long term success, if you get 100 visitors to your website, it's better to get 10 from each of 10 methods rather than 100 visitors from 1 method!
Among the methods you should consider are (in alphabetical order):
ad swaps
article marketing
blog hopping
blogging
free reports
facebook groups
forums
joint ventures
guest blogging
integration marketing
signatures
social networking
search engine optimisation
viral marketing
word of mouth
video marketing
My mentor, John Thornhill, provides more information on all of these methods in his product 'Simple Traffic Solutions'.
Why not check it out here: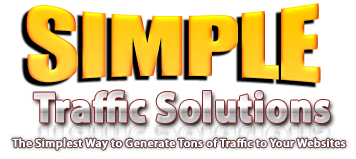 Tip 4 – Have a plan to increase website traffic
A common theme you will hear from me is that in order to achieve anything you need a plan.
A good plan is more than just a schedule.
It will outline not just what and when, but also how you do things.
Your plan can take whatever shape works for you.
Some people will just have scraps of paper.
Others will do everything electronically.
My personal preference is to have a long term plan with key dates and milestones, a more detailed plan for the next 3 or 4 weeks and a to do list which I prepare and maintain each day.
Planning is critical to your success, but please remember that a plan is just a tool to enable you to deliver.
You get nothing for having the best, most elegant plan there is. It just needs to be something you can work with.
There are lots of tools out there – some free, some not.
I suggest, if you're new to planning, try out a few of the free tools, and work out which one works best for you.
Again, my preference is to use a spreadsheet for my detailed 3-4 week plan and for my long term plan.
I use a piece of paper beside my keyboard for my to do list.
However, I'm always on the lookout for new planning tools that will make life easier for me, because although I recognise the importance, I don't want to spend my life planning!
Tip 5 – Don't expect overnight results.
Let's be realistic. You will not go from no visitors to 1000 visitors per week overnight.
If you really want to increase website traffic then you need to persevere.
Keep on going.
Give each of your methods a chance to work.
Review what you're doing – again and again.
We all make silly mistakes (well I do anyway), but by reviewing constantly, you will have a great chance to spot them and do something about them.
For example, shortly after I started to optimise my blog for search engines, I realised that I wasn't doing keyword research – so my blog posts were optimised for keywords that no-one ever used!
An easy mistake to make, but silly none the less.
Remember, even if you reach page 1 on Google for a specific search term, unless you keep working at it, you won't stay there.
This is the same for pretty much all traffic generation methods.
If you stop working at them, then they will stop being effective pretty quickly.
Your daily routine should, therefore include all of you traffic generation activities.
For me, I spend the first half of every day trying to increase website traffic because that is the thread that will make me online business successful.
If you haven't already done so, please connect using the form to the top right of this page to be the first to receive updates and notification of new blog posts.